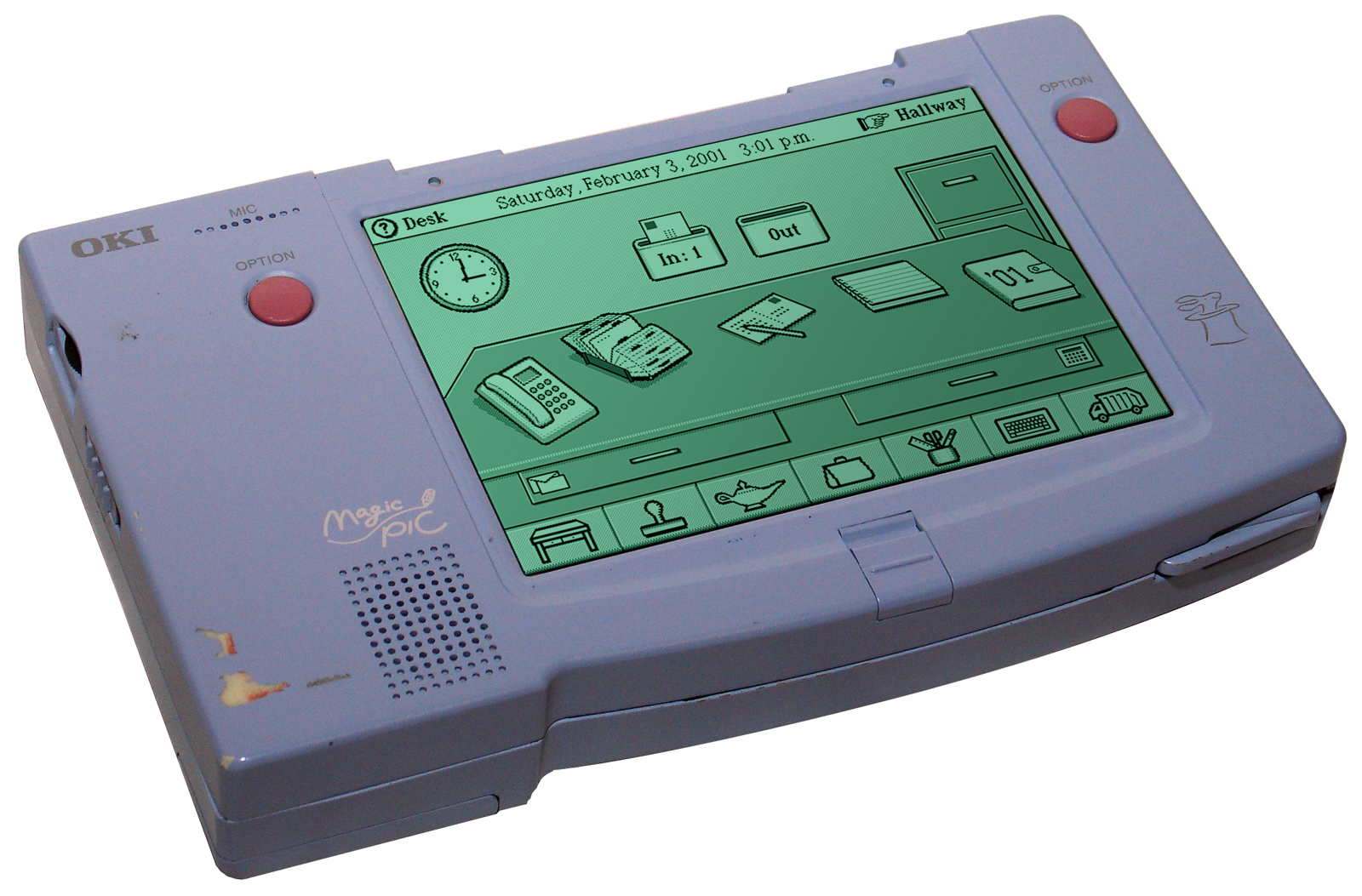 Operating System: Magic Cap 3.x (Rosemary)
Pros: Simply enchanting paint job, second-generation guts, backlit screen.
Cons: Fragile prototype plastics.
History
As mentioned in the DataRover 840 history, the Apollo prototypes came in some fascinating colors. Oki, their creator, wasn't shy. The Apollo pictured here features a lavender case, pink option buttons, and a pea green screen cover. It's the only device I considered photographing with the screen cover closed.
The fact that Oki put their name on the devices is impressive, and combined with the playful "Magic PIC" logo, reflects an optimism for the device's future. (Contrast that with Panasonic taping over their logo on NeoNet.) At the time it was apparent that Oki planned on shipping the devices under their own brand.
Several Apollo prototypes were lost to flashing bad ROM images. This wasn't especially hard to do, especially when the first DataRover 840s came in. The Apollo had 4MB flash ROM, whereas the 840 had 8MB. Try to load a 840 image on an Apollo and you got a dead Apollo. No bringing it back to life.
Of course, being an early prototype, other Apollos were lost to physical damage. Each was hand-made–we only had twelve of them total–and the plastic composition was simply not as durable as molded plastics. These units were sent out on the road with the business development team, and after a point they'd fall apart.
As best I know, this Apollo is the only one that survived. Jeb Bolding had it for several years and took it with him on many business trips. The Apollo held up admirably in his care. Jeb then gave it to me as a birthday gift a few years ago.